Excel Parking Services 'Gold' for Customer Service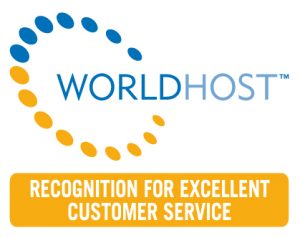 Excel Parking Services Group recently held its first 'Principles of Customer Service' training course under the auspices of WorldHost™.
Hosted by the Manor Walks Shopping & Leisure organisation in Cramlington, Northumberland, the intensive 1-day programme was delivered by our very own HR Manager and Licenced WorldHost™ Facilitator, Gary Dearden.
A total of nine candidates – including Bruno Coppola, General Manager of Manor Walks – successfully combined attendance, participation and a review test to achieve the required 'pass' standard, which will effectively raise the customer service bar for car park users in the retail and leisure sectors.
The inaugural event marked the beginning of a planned WorldHost™ programme rollout across the Excel estate, and Group MD Simon Renshaw-Smith said, "As a business, we are 100% committed to our customers. Our plan to deliver the WorldHost™ programme, for both our frontline and Head Office teams, serves to underline this focus and represents a significant investment in the continued improvement of our service standards going forward."
Commenting upon the ground-breaking training from the retail angle, Bruno Coppola said, "Today's shopper experience has evolved and is all about the quality of engagement, so our key focus is upon recruiting and training the ideal team of 'brand ambassadors'. People buy from people, and when shoppers enjoy a positive experience with friendly staff – from the car park to the till – they will talk up our brand values in a positive way and, more importantly, they will come back."
WorldHost™ was the preferred customer service provider chosen for the universally renowned 'Gamesmakers', who made the London 2012 Olympics such a resounding 'gold medal' success from the perspective of competitors, spectators and visitors alike. The programme has already become a respected standard across the hospitality and leisure sectors, with users including Monarch Airlines, the AA, Warner Leisure and Wetherspoons.
Excel Parking is the first company from the UK car parking sector to join the illustrious group.
Leave a Reply